Close
Thank you for your inquiry.
Someone will contact you soon.
Or feel free to call us at 561-603-1142.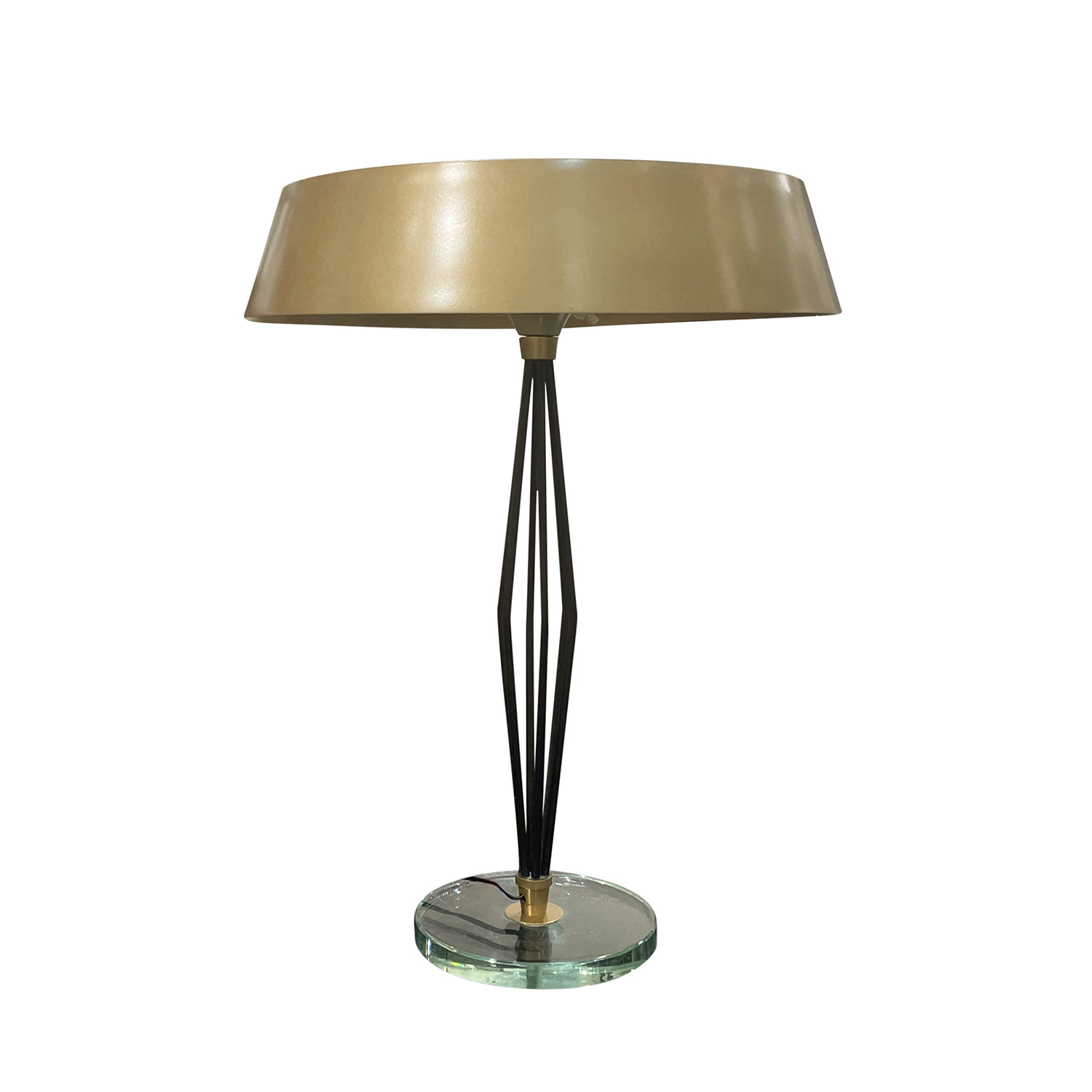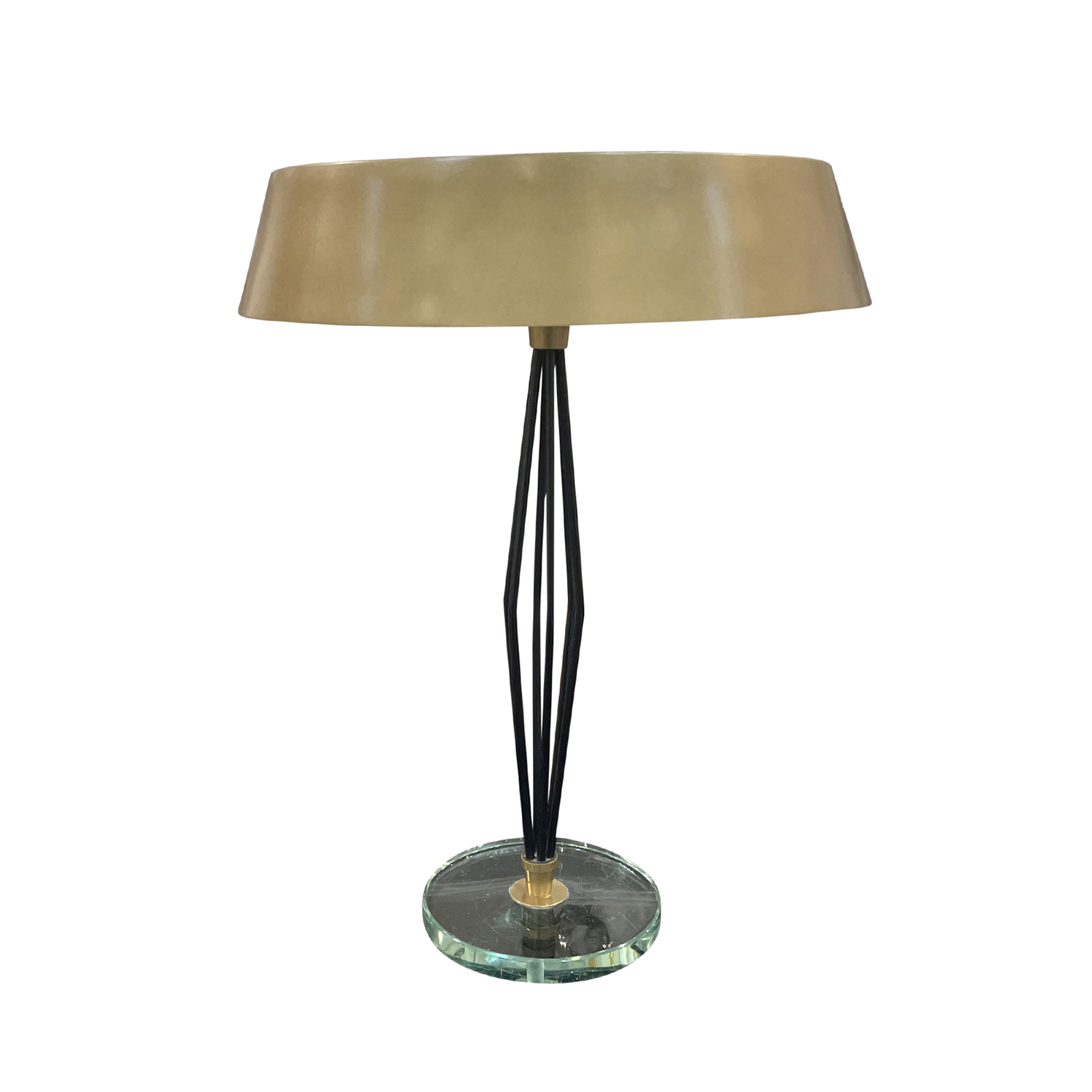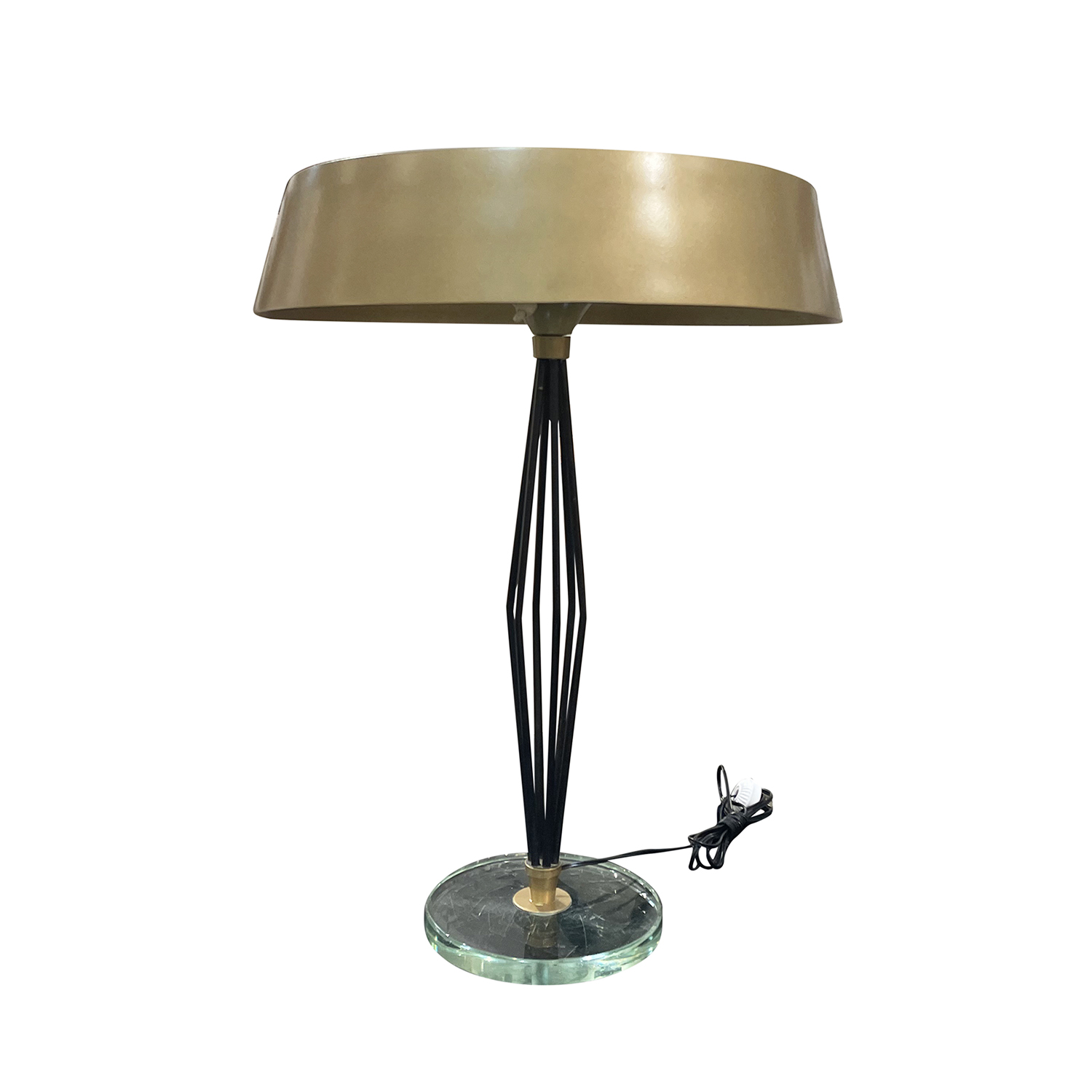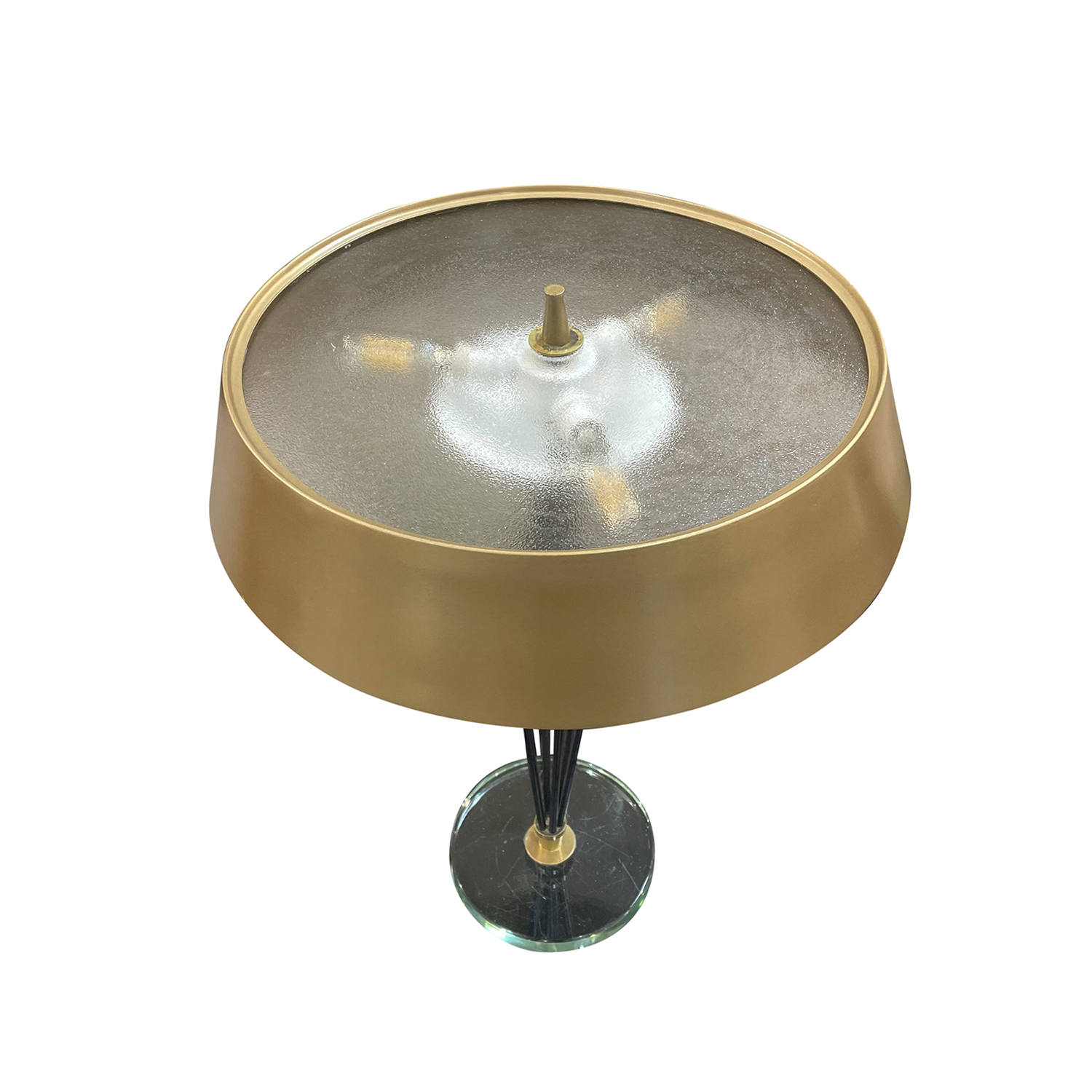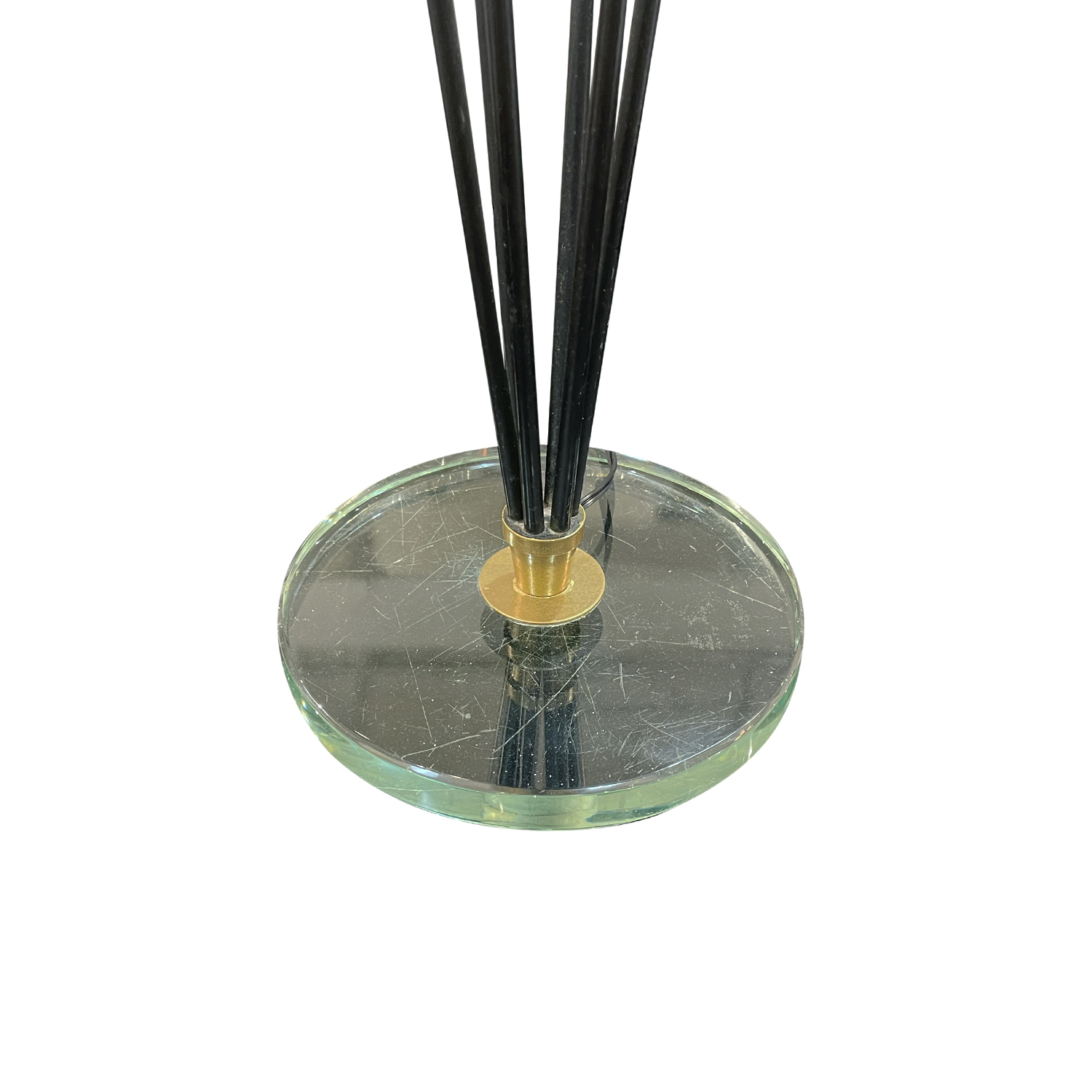 20th Century French Vintage Murano Glass Table Lamp by Max Ingrand & Fontana Arte
peli-1346
A vintage Mid-Century modern French, Italian table lamp made of hand crafted lacquered metal designed by Max Ingrand and produced by Fontana Arte, in good condition. The sculptural desk light with a three light socket has a round painted bronze shade, particularized by a slightly smoked Murano glass insert. The lamp is supported by arched stems and sitting on a round glass base. The wires have been renewed. Minor scratches on the glass base, due to age. Wear consisting with age and use. Circa 1955 - 1960, Milan, Italy.

Base: 0.5" H x 6.5" diameter

Shade: 3.75" x 14.5" diameter

Maurice Max-Ingrand, better known as Max Ingrand was a French artist, designer and decorator born in 1908, in Bressuire, France and passed away in 1969, in Paris. Ingrand studied in Paris at the French University École Nationale Supérieure des Beaux-Arts and École Nationale Supérieure des Arts Décoratifs. During this time, he was educated by the well-know French glass artists Jaques Grüber and Charles Lemaresquier. In 1937, he participated in designing the church windows of the Notre-Dame de Paris. During 1954 - 1967, Ingrand was the artistic director of the Italian design company FontanaArte.

FontanaArte is an Italian lighting and design company founded in 1931, in Milan, Italy. Founded by the two well-known Italian architect and designers Giovanni Ponti and Pietro Chiesa. The company is specialized in elegant lamps and glass furniture. Well-known artists have worked and designed for FontanaArte, like the famous Italian architect Piero Castiglioni or Franco Raggi. Today FontanaArte is owned by the Italian Creation Group.
Material: Glass, Metal
Details: Frosted Murano Glass, Lacquered Metal, Painted Bronze
Country of Origin: France, Italy
Dimensions: 20.25" H
Inquire
Subscribe To Our Newsletter
© 2023 AP Mid Century Modern. All rights reserved.