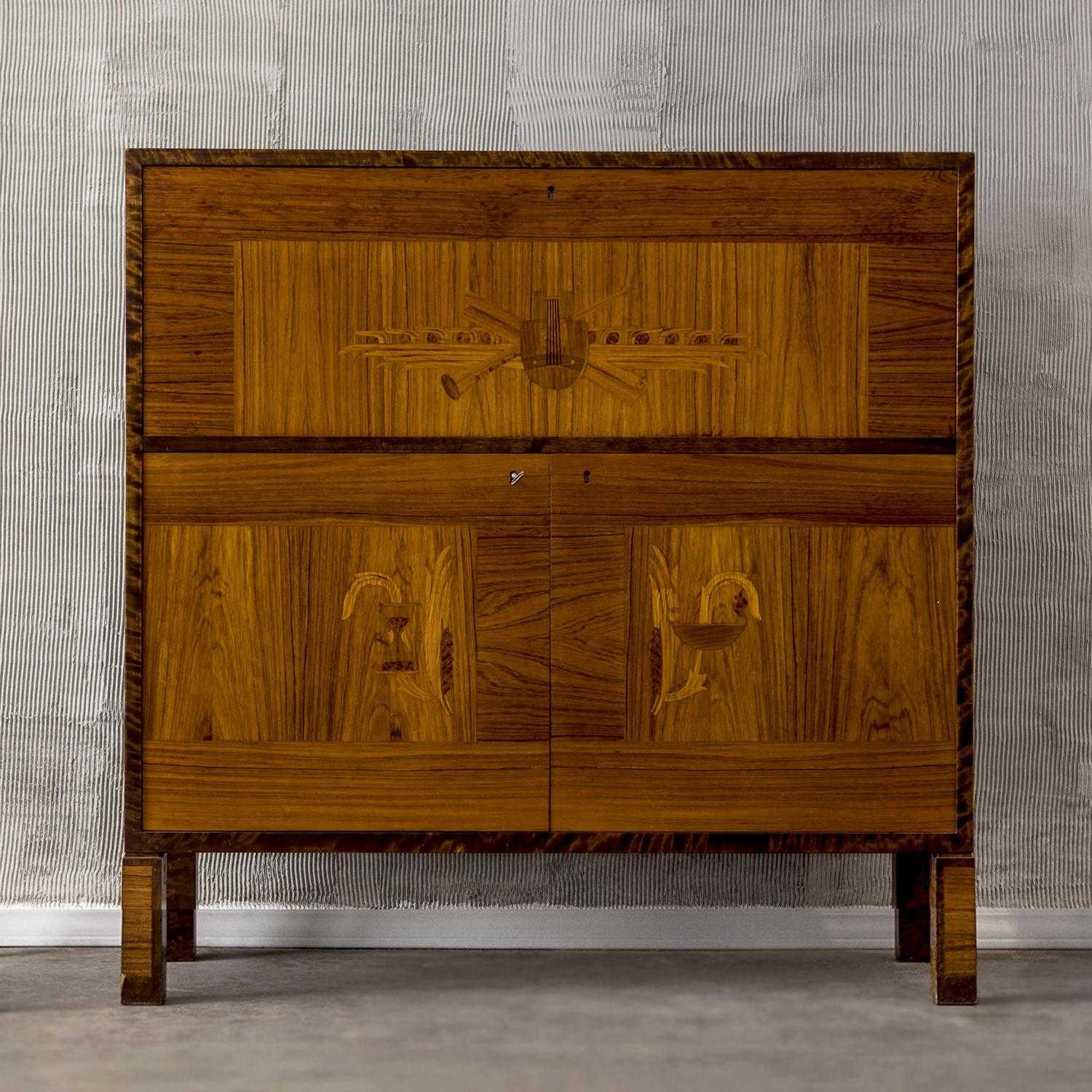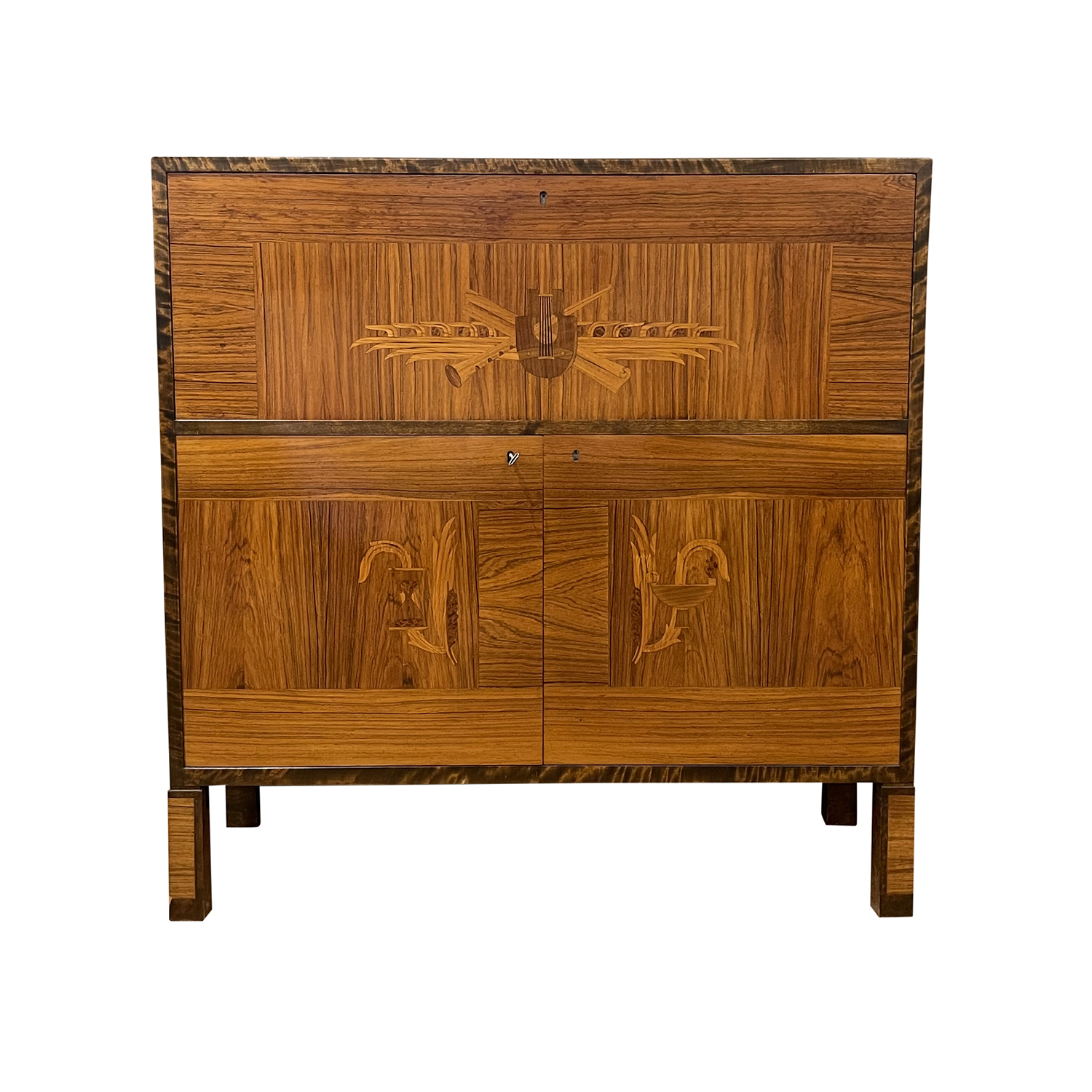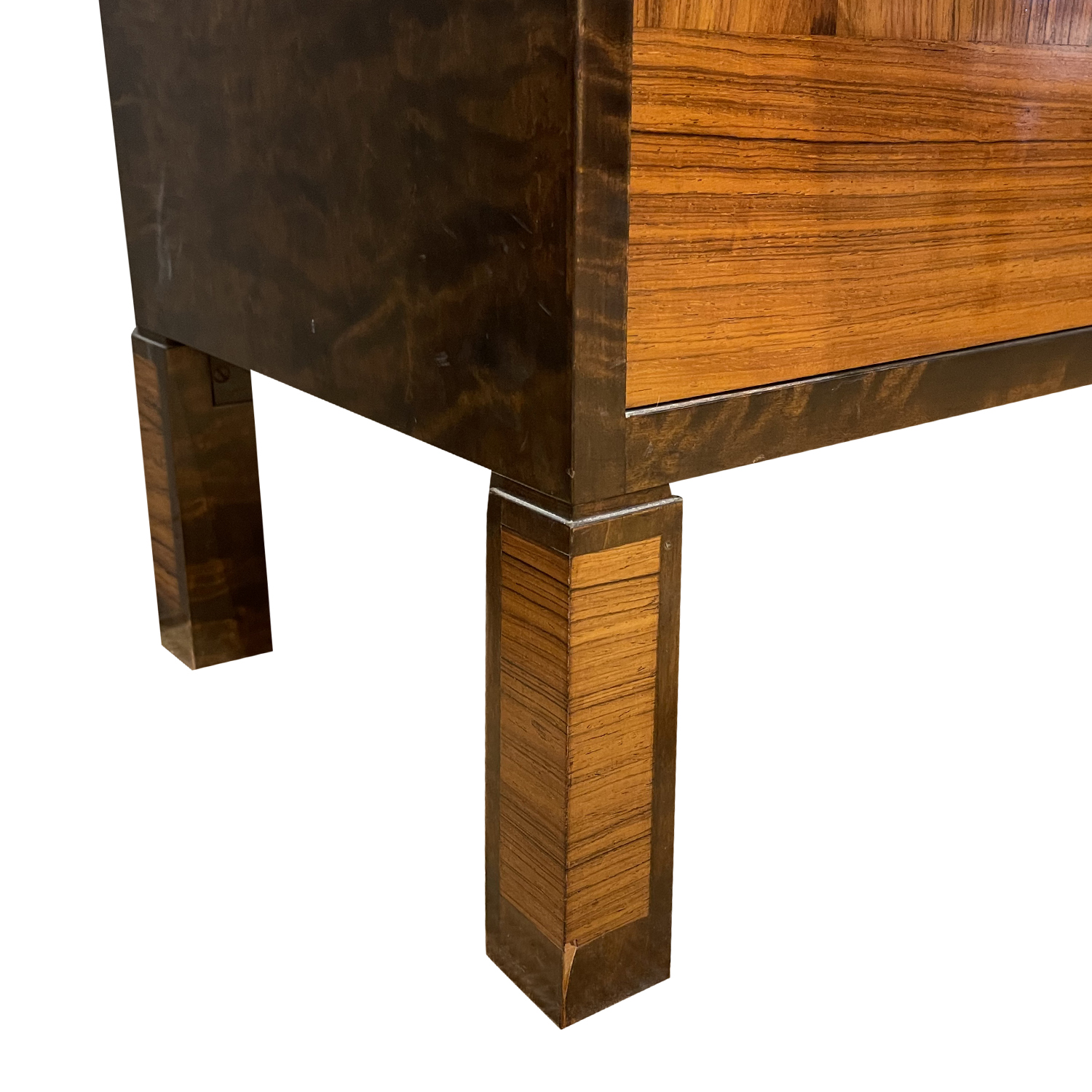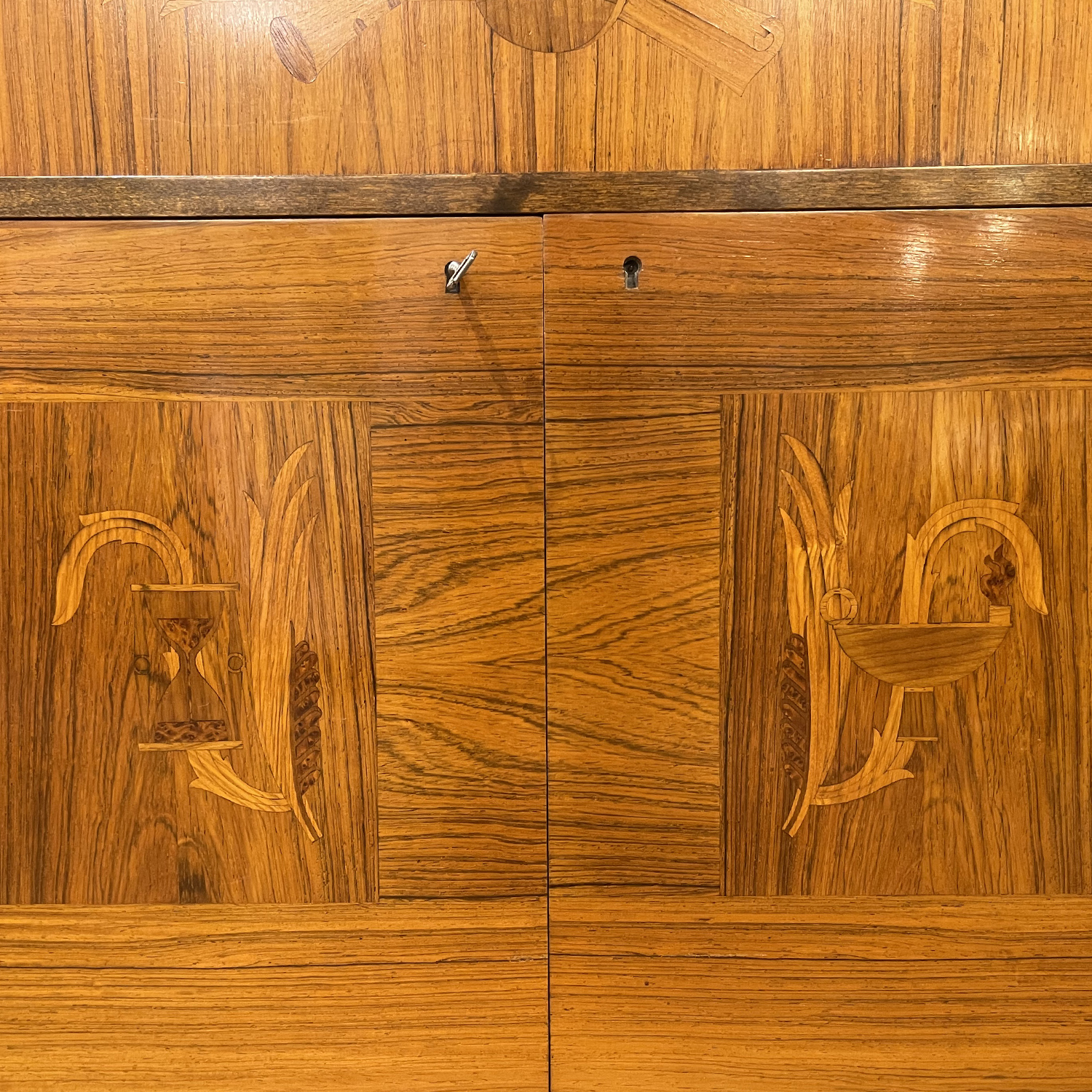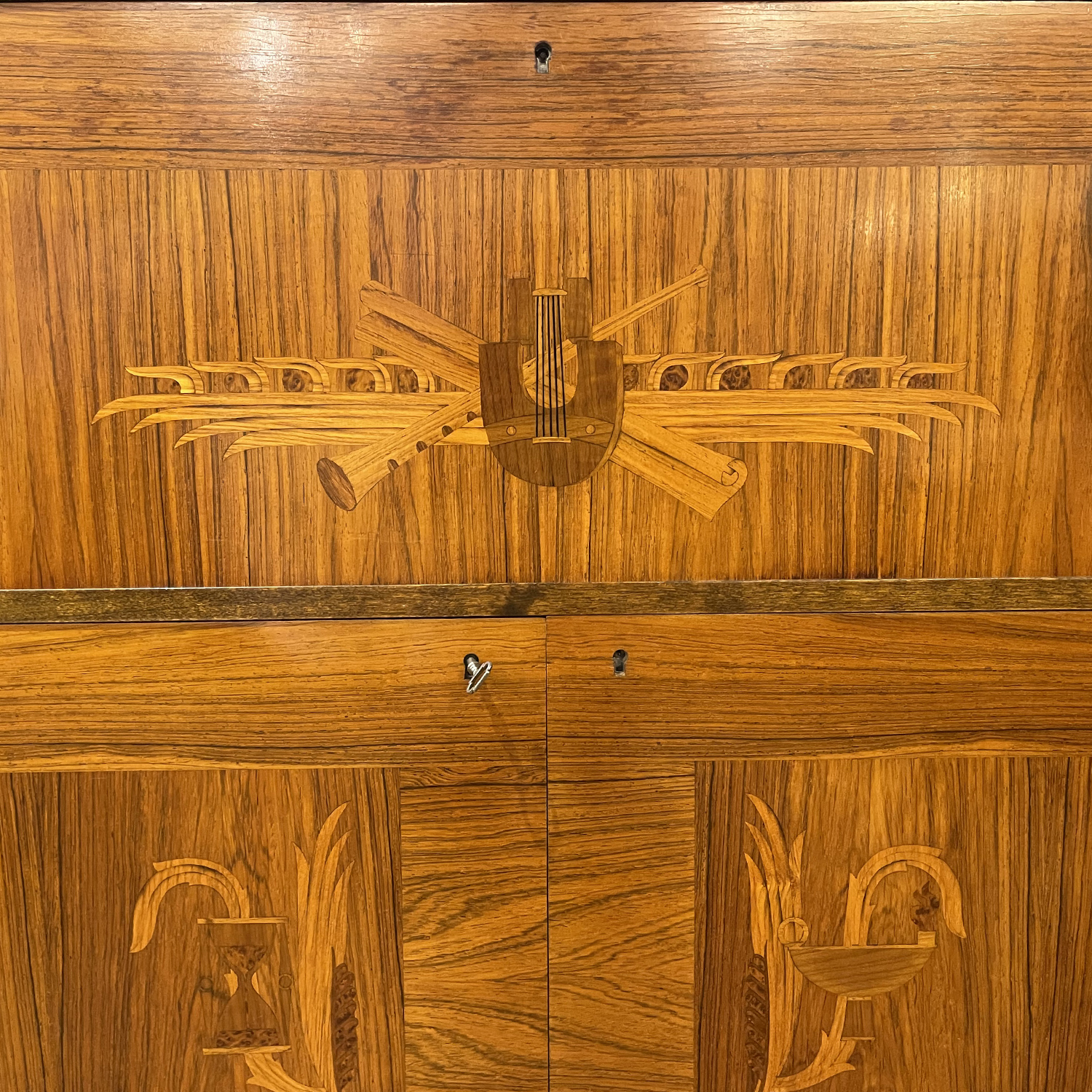 20th Century Swedish Birchwood Secretaire by A.B. Svenska Moebel Fabrikerna 'SMF'
pe-1489
A vintage Mid-Century modern Swedish secretary desk signed by the A.B. Svenska Moebel Fabrikerna (SMF), one of the largest furniture manufacturers in Bodafors, Sweden, most likely a piece from Axel Larsson. The secretary is made out of a variety of woods: stained mottled Birchwood and Jacarandawood, in good condition. Wear consistent with age and use. Circa 1950, Sweden, Scandinavia.

Axel Larsson was a Swedish interior architect and a furniture designer born in 1898 Medelpad, Sweden and passed away in 1975 in Sweden. Larsson studied at the Hoegre Konstindustriell Skolan in Sweden and was mentored by the Swedish designer Carl Malmsten during the Stockholm City Hall project. Larsson worked for over thirty years with the Swedish manufacturer company Svenska Möbelfabrikerna Bodafors (SMF). In 1956, he opened his own firm but continued to collaborate with his former employer, which continues to produce Larsson's stackable Chair S-312 today.

A.B. Svenska Möbelfabrikerna (SMF) was a Swedish furniture manufacturer, founded circa in 1860 - 1870, in Bodafors, Sweden. In 1972, the design company was acquired by Axel Hägg and his brother, they started producing roofing needles, later on the switched to designing, manufacturing the wicker chairs. In 1893, the firm won the gold medal for its chairs at the Worlds's Fair in Chicago, United States. During a period, the company was the largest furniture manufacturer in the Nordic region with almost 400 employees in the two production plants in Bodafors and Värnamo, in the south of Sweden. Many well-known designers and architects have worked and designed for them, such as Axel Larsson, Carl Malmsten, Bruno Mathsson, etc. In 1971, the company joined the DUX Group.
Material: Wood
Details: Birchwood, Jacaranda
Country of Origin: Sweden
Dimensions: 41.5" H x 41" W x 16" D
Inquire